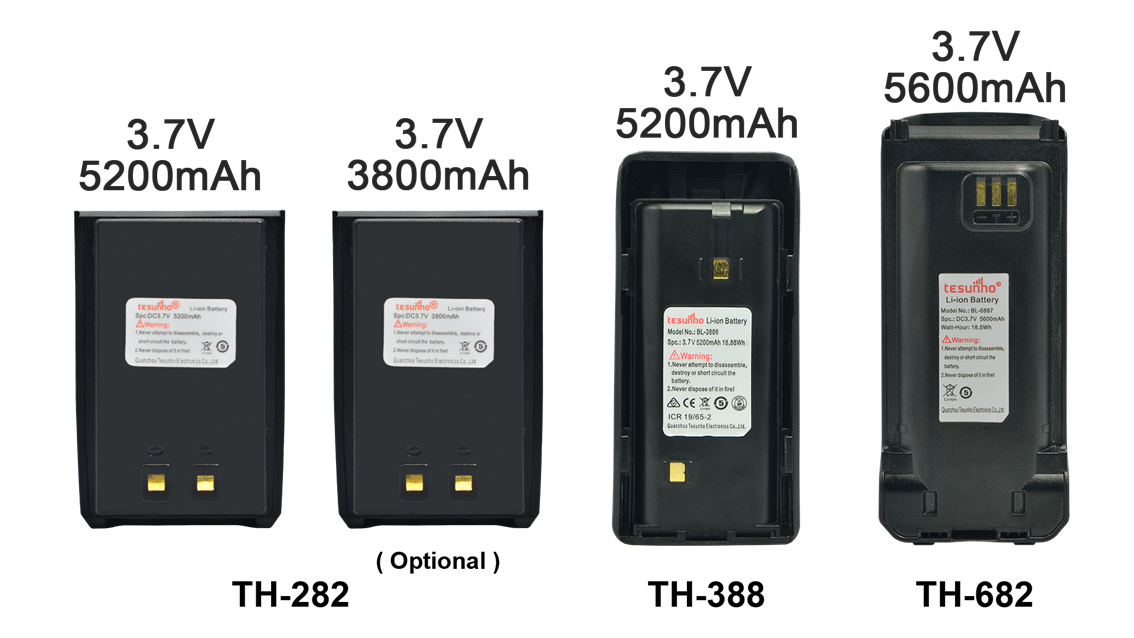 Do you know the importance of battery for Walkie Talkie
The hand-held walkie talkie is a communication device that needs electricity. It needs battery power just like the mobile phone. What kinds of batteries are commonly used in walkie talkie? What's the difference?
lithium battery
Lithium battery is a kind of common battery with a voltage of 3.6V. Lithium battery can be roughly divided into two categories: lithium metal battery and lithium-ion battery. Lithium battery is characterized by low self discharge, no memory effect, high energy density, long life and high voltage platform. Jinan interphone indicates that because of the high voltage platform and high power bearing capacity of lithium battery, many high-power mobile devices and even electric vehicles are powered by lithium battery. Besides, it does not contain heavy metals and is very environment-friendly. The disadvantage is poor safety. If there is no protection circuit, the lithium battery will explode when it is overcharged, and the overdischarge will also affect its service life.
Lithium battery cell
Ni MH rechargeable battery is improved from Ni Cd rechargeable battery, and the voltage is generally 1.2V. Compared with Ni Cd rechargeable battery, the battery has 30% more electricity reserve, and has no memory effect. It can be charged as it is used, and can reach 500 times of complete charge discharge cycle life. Compared with Ni Cd rechargeable battery, it does not contain "cadmium" in itself, and has no pollution to the environment. But the self discharge effect is very serious, which can reach 30% of its electricity every month. And it's better to use the battery fully when necessary. The development of lithium battery has been replaced gradually.
AA alkaline battery
AA alkaline battery is the most common battery in our life, with a voltage of 1.5V. It is not rechargeable, but the single use of electricity lasts, the output is stable and has the advantage of no leakage, so it can be purchased everywhere. Alkaline batteries are free of mercury, so they can be discarded with household garbage after power failure. But the capacity of alkaline battery will decrease with the increase of output current, and it will not be durable in high-power electrical appliances.
Alkaline battery
Demand comparison: for the batteries used in walkie talkies, many walkie talkies use lithium batteries as power supply because of their high energy density and high power load. But the number of battery backup is a big problem when going out.
Most walkie talkies are powered by lithium batteries
Because the capacity of alkaline battery will decrease with the increase of power, so many walkie talkies using alkaline battery as power supply have a power of only about 2W, relatively speaking, the coverage will be much smaller. The wholesale of walkie talkie indicates that it can carry a large number of AA alkaline batteries as backup when it is far away. You can choose according to your own needs.